LET'S GET TOGETHER!
I would love to share my creative side with you. I've spoken to small and large groups on how graphic novels are created, led character design and comic creation workshops, and even gave some one on one art training.
I've presented to all ages K-5, Middle and High School, even Adults.
RATES
Single School Visit.........................$500
Full Day (Up to 3 Schools).............$1200
Virtual Visit.......By Special Request Only
Please note that any travel/accommodation expenses are additional.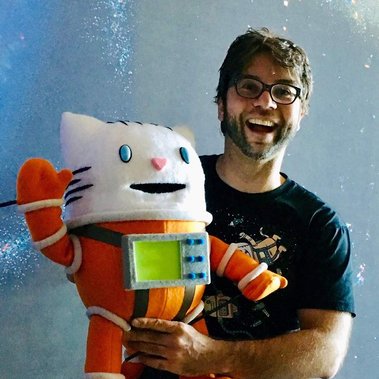 INTERESTED IN HOSTING AN APPEARANCE?
School visits for the 2022/2023 school year are all booked up.

Please check back here May 2023 for information about school visits for 2023/2024.
ABOUT THE PRESENTATION...
We'll focus on how a graphic novel is created, beginning with how a doodle can become an inspiration for a story. We look at historical photos from Nasa's Apollo program and discuss how part of history influenced the look and feel of the CatStronauts book. Then, I take the audience through a step by step process of making a graphic novel, ending with a live drawing demonstration where I reveal the secret to drawing my characters (Spoiler: It's a potato). Afterwards, the audience gets to meet the real life CatStronaut Waffles! The presentation wraps up with Q and A session with myself and Waffles..
Total Time: About 45 -60 Minutes
Equipment Needed:
Projector or Large monitor with a VGA or HDMI connection. Large Easel with Drawing Pad.
Students can bring some drawing supplies with if they want to draw along during the drawing demo.
Virtual visits:
I am also able to work with whatever platform is easiest for you (Google Meet, Zoom, etc).